This is the equipment for my Secondary Back Up System:
The design of the Gemini KM-707 offers a creative and versatile environment for you as DJ. There is a multi functional digtal effect processor, expanded microphone section etc.
3 Channel Stereo mixer
4 Line Inputs
3 microphone inputs
3-band eq on microphones
Echo effect on microphone channel (200ms)
3-band eq per channel + gain
Power connector for Gooseneck licht
DSP Effects: Key Controller (25 steps of 1/4 tone), Reverb (50ms), Voice Reducer
Cross Fader


American DJ Decibel meter display
The American Audio dB Display is designed to set in an amp rack to view your decibel level. LED display progresses from green through amber to red. Sensitivity adjustment on both left and right channels. 2 separate modes: dot and bar.
The QSC GX5 Stereo Power Amplifier is ideal for professional entertainers who require maximum performance and portability on a limited budget. It's all here – dramatic styling, easy hookup and adjustments, excellent audio quality and QSC reliability.

GX amplifiers deliver just the right amount of power to the most popular speakers used by entertainers. Most loudspeaker manufacturers recommend an amplifier with power output equal to the speaker's Program (Music) Power rating or two times (2 x) the Continuous (RMS) Power rating. The GX5 supplies maximum possible power to 4 ohm and 8 ohm loads.
500 Watt Cantora speakers built in Whittier California. Perfect for DJ/KJ


Cavs DVD 203G-USB Karaoke Player
CAVS DVD-203G USB is the next generation DVD Karaoke player that plays from both optical discs and USB memory devices. It plays the discs, such as DVD, MPEG4, Super CD+G, INX, INX2, CD+G, HDCD and CD. It also plays from USB memory devices, such as iPod®, MP3 player, USB hard drive, USB memory stick, or USB card reader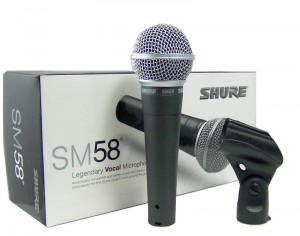 Shure SM58 Wired Microphone – 2
The legendary Shure SM58 vocal microphone is designed for professional vocal use in live performance, sound reinforcement, and studio recording. Its tailored vocal response for sound is a world standard for singing or speech. A highly effective, built-in spherical filter minimizes wind and breath "pop" noise. A unidirectional (cardioid) pickup pattern isolates the main sound source while minimizing unwanted background noise.

Rugged construction, a proven shock-mount system, and a steel mesh grille ensure that even with rough handling, the SM58 will perform consistently, outdoors or indoors.