Below is a list of equipment for my Karaoke Systems. Karaoke Equipment can be extremely expensive. Especially if you want the best and need to transport it from show to show. Not only is there the main equipment there is also various connecting wires and power cables.
There is my Main Systems Equipment:
Professional KJ/DJ/VJ Mixer with DSP Mic Effect and Digital Key Control and Built In 7 Band Graphic Equalizer
7 Channel Pro KH/DJ/VJ Mixer with built in Digital Key Control
DSP Vocal Reverb with Level control
2 Main video outputs plus 1 separate monitor output (RCA)
New Smaller Space Saving Rack Design, Only 6 Spacesz
4 Mic Channels, 3 Line/3 Video Inputs, 2 Phono and 3 Video Outputs
Onboard Video Crossfader Toggle
Assignable 11-Step Digital Key Control (Works on both Audio and Mic Channels)
Professional Digital Echo with Repeat and Delay Controls
5 band Graphic Equalizer for precise room tuning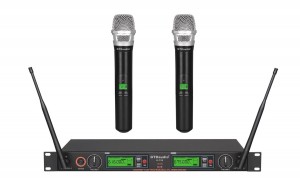 GTD Audio G-733H 2×800 Channel Diversity UHF Wireless microphone system
GTD-Audio's G-733H wireless microphone system delivers superior sound quality and professional features. It is designed for a wide range professional application with 800 selectable frequencies, automatic frequency scanning, true diversity operation, Tone Lock squelch circuit, automatic transmitter setup. It's the perfect for professional use at any events.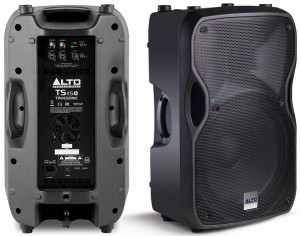 Alto Professional TS115A – (2) 800 Watt Powered Speakers
The cabinets have been designed with versatility and longevity in mind. They feature a durable, lightweight polypropylene enclosure that is stand mountable for weekend gigs and flyable for more permanent installations. What's more, they have a trapezoidal design which greatly decreases the resonance of the standing wave in the cabinet for a more true and exact sound reproduction.

The drivers in the Truesonic TS115A are designed to make sure that virtually no energy is wasted. That translates to more of the power from the amplifier actually working to generate sound rather than heat, giving the speaker better real world performance than other speakers with comparable published specifications. The Truesonic TS115A offers a 15″ LF driver (2″ voice coil) and a 1″ HF neodymium driver.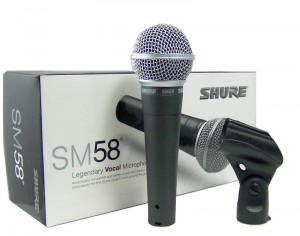 Shure SM58 Wired Microphone – 1
The legendary Shure SM58 vocal microphone is designed for professional vocal use in live performance, sound reinforcement, and studio recording. Its tailored vocal response for sound is a world standard for singing or speech. A highly effective, built-in spherical filter minimizes wind and breath "pop" noise. A unidirectional (cardioid) pickup pattern isolates the main sound source while minimizing unwanted background noise.

Rugged construction, a proven shock-mount system, and a steel mesh grille ensure that even with rough handling, the SM58 will perform consistently, outdoors or indoors.
The DVX-890k is more than just a vocal player, it's the next generation in digital audio and video jukebox technology. DivX allows you to store hundreds of DivX karaoke files and DivX movie files on a single CD or DVD, USB Drive or SD card for immediate access to songs. Plus, you won't need to carry around hundreds of Discs!